25 Mar

Oil Painting Studio 201 – ONLINE (March-May) with Jeannette Pomeroy Parssi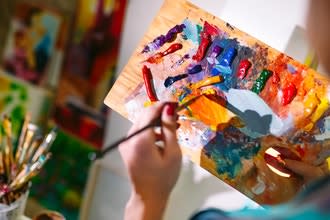 Since June 2016 you need to have a valid API key enabled to display Google maps, see plugin settings
From From: 10:00 AM to Noon
At Online
107 S. 8th Street, Noblesville, IN 46060
http://nickelplatearts.org/classes/painting
$15/class - $150 for the full session
Aili McGill / (317) 452-3690, amcgill@nickelplatearts.org
Description
Location: ONLINE! Students will receive Zoom links to attend class after registration and payment.
March 16-May 18
Tuesdays 10 am - 12 pm
Suggested age 16+ For creative people with some previous painting experience, this 201-level class provides nurturing instruction and guidance from painting instructor Jeannette Pomeroy-Parssi.
Jeannette will offer guidance as you paint and explore her lessons and assignments from week to week. She can also provide tips and support for your own projects, if you want to bring them to class.
Beginning students are encouraged to consider our Beginning Painting 101 class on Wednesday mornings. Please reach out directly to the instructor at jpparssi@yahoo.com to confirm which option is best for your experience level and schedule.
Upon registration, the supply list will be sent to you to purchase your own supplies.
If you'd rather purchase your supplies through Nickel Plate Arts and have the instructor ship them to you, there is an additional option at check out to add "Oil Painting Class Supplies," Supplies generally include (ordered from Dick Blick): Oil, Set of 10, 38ml (Alizarin Crimson, Cadmium Red Hue, Ultramarine Blue, Lemon Yellow, Yellow Ochre, Viridian Hue, Raw Umber, Burnt Sienna, Titanium White, Ivory Black) Oil, Cad Yelo Hue, 38ml Oil, Cerulean Blue Hue, 38ml Disposable Palette Paper W&N Refined Linseed Oil Princeton Brushes, Set of 7 Palette Knife, Style 50 2-9"x12" stretched canvas 1-Pack of 5, 9x12 canvas panels Dawn Liquid Dishsoap Rubber dishwashing gloves Roll of Foil Roll of Paper Towels This class is led by professional artist and educator, Jeannette Pomeroy Parssi, who has been teaching painting and drawing for more than 15 years. 2021 will mark her 8th year as a member of the faculty at Michigan's famed Interlochen Center for the Arts summer art camp, where she teaches Painting & Drawing.