06 May

Noblesville Fourth of July Fireworks Festival and Parade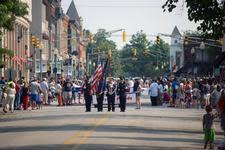 Since June 2016 you need to have a valid API key enabled to display Google maps, see plugin settings
From 2:30-10 p.m.
At Downtown Noblesville
Downtown Noblesville, Noblesville, IN
https://secure.rec1.com/IN/city-of-noblesville-in/catalog?filter=c2VhcmNoPTEwODIzNTI=
FREE!
July 4th festivities will return to Forest Park and will last from 6-10 p.m. with live music on the main stage by headliner Boy Band Review from 6:30 to 9:30 p.m. The grand finale of the day will be the fireworks display starting at 10 p.m. Prior to the evening's events the annual July 4th Parade will be conducted through the streets of downtown Noblesville. The parade is scheduled to begin at 2:30 p.m.
VIP table groups may bring in their own food and drink, participate in a table-decorating contest, and get access to separate VIP restroom options. This new area expands the festival's seating and viewing options. Tables seat eight people and cost $100. To reserve your table, click here or call (317) 776-6350. Funds received for VIP section accommodations help defray costs of hosting the community event.