06 May

First Friday, May 7th, 2021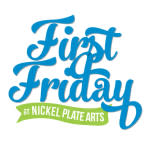 Since June 2016 you need to have a valid API key enabled to display Google maps, see plugin settings
From 6pm-9pm
At Nickel Plate Arts
107 South 8th Street, Noblesville, IN 46060
http://www.nickelplatearts.org
Free
Nicole Amsler / (317) 452-3690, namsler@nickelplatearts.org
Nourish your appetite for local culture during First Friday at Nickel Plate Arts! These once-a-month events are packed with essential arts nutrients and stuff to make you happy inside and out. Enjoy refreshments, live music, great art, and a cash bar featuring beer and wine from local producers.
Enjoy an interactive musical experience with Indy Music & Wellness, lead by Jalynn Simmons.
View this stunning, thought-provoking exhibit in our Judge Stone House gallery, enjoy a drink from the cash bar, snack on a variety of refreshments, then stroll over to our Stephenson House gallery for a special showcase of art by Anthony Schillaci.