30 Sep

Fall City Recycling Day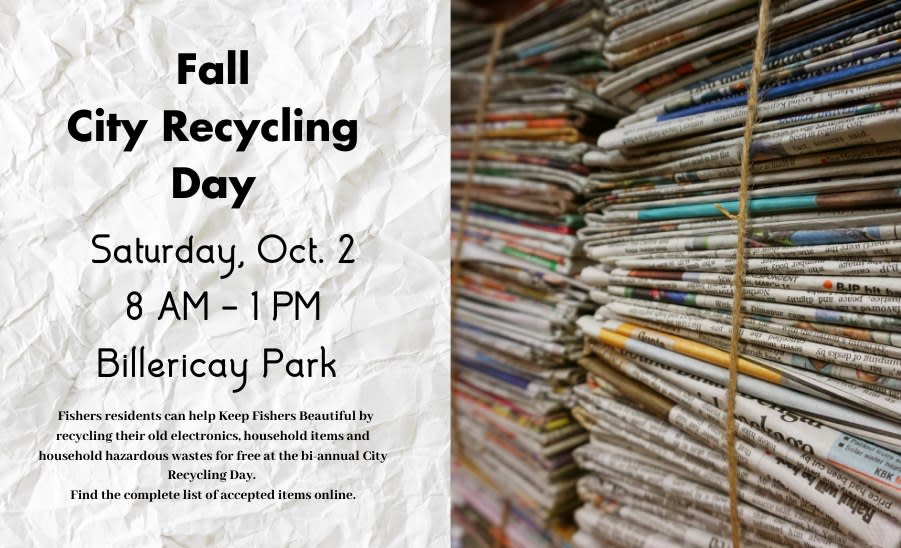 Since June 2016 you need to have a valid API key enabled to display Google maps, see plugin settings
From 8 a.m.- 1p.m.
At Billericay Park
12690 Promise Rd, Fishers, IN 46038
https://www.fishers.in.us/1047/City-Recycling-Day
Free
Kara Hall / hallk@fishers.in.us
Fall City Recycling Day returns on Saturday, October 2 from 8 a.m. to 1 p.m. at Billericay Park. Residents can recycle electronics and household electronic or metal items (such as mowers, treadmills, bikes, grills, batteries, metals, etc.) and household hazardous wastes (such as automotive fluids, acids, paints, fertilizers, pesticides, PCB ballasts).
Paper recycling and off-site confidential document shredding are also available. Paper recycling is available on site for all paper types, but the shredding of confidential documents is completed off-site after the paper vendor, Share's Inc., hauls the paper to their offsite facility. Share's is a certified confidential document shredding company.
The City's vendors do NOT accept wood, mattresses, plastic, general trash or other random household items. All items must be metal/electronic, paper/cardboard, or chemical in nature. Items brought that are not accepted will be the responsibility of the resident to take back home with them for disposal.
Learn more about accepted items here: https://www.fishers.in.us/1047/City-Recycling-Day