12 Aug

CIDE Nutcracker Auditions 2021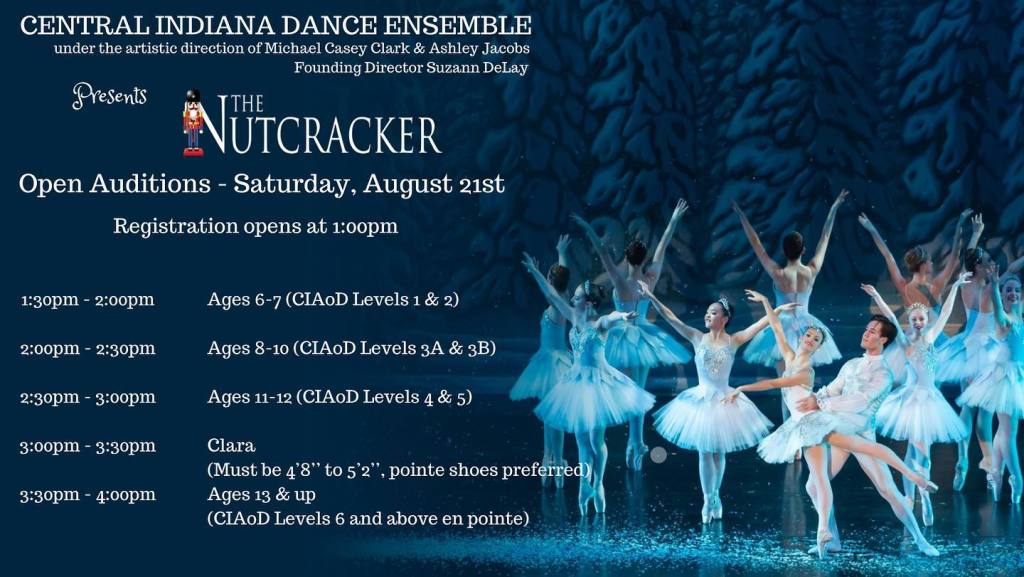 Since June 2016 you need to have a valid API key enabled to display Google maps, see plugin settings
At Central Indiana Dance Ensemble
14950 Greyhound Ct, Ste 4, Carmel, IN 46032
https://www.cidedance.org/cide-store/audition-fees-non-company-only
$10 for Non CIDE Members
Central Indiana Dance Ensemble / (317) 844-7453, info@cidedance.org
Please join us for the Central Indiana Dance Ensemble's 2021 Nutcracker Auditions on Saturday, August 21st!

Location:
Central Indiana Academy of Dance
14950 Greyhound Ct, Ste 4
Carmel, IN 46032
317-844-7453

Time:
Registration Opens at 1:00PM (Please Arrive 30 minutes Prior to Your Scheduled Audition Time)
1:30-2:00PM Ages 6-7 (Central Indiana Academy of Dance Levels 1&2)
2:00-2:30PM Ages 8-10 (CIAoD Levels 3A & 3B)
2:30-3:00PM Ages 11-12 (CIAoD Levels 4 & 5)
3:00-3:30PM Clara (Must be 4'8" to 5'2", pointe shoes preferred)
3:30-4:00PM Ages 13 & Up (CIAoD Levels 6 and above, en pointe)

We look forward to your dancer's participation and a spectacular production! Please see the provided website link to register!